Illuminate Your Brand: Unveiling the Power of LED Innovation in Live Events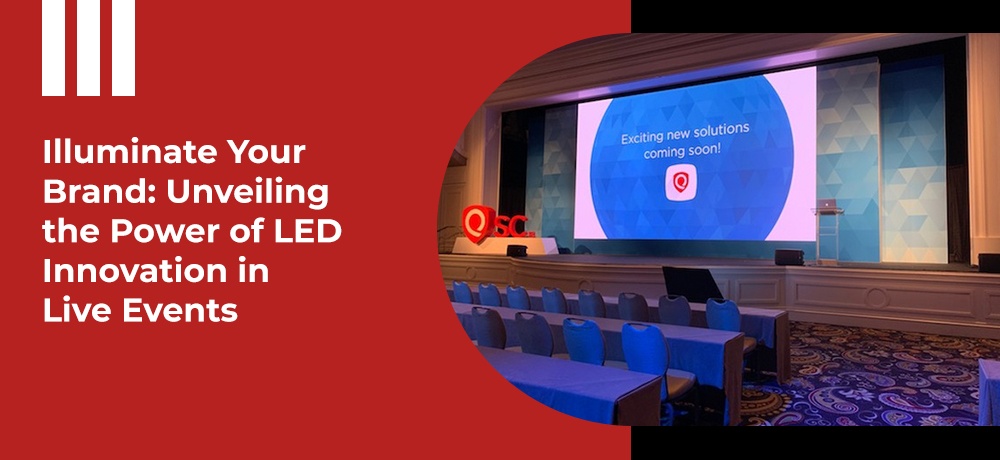 In the dynamic world of live events, captivating your audience's attention is key to leaving a lasting impression. At 4 Productions, we're more than just a production company – we're your partners in transforming ordinary events into extraordinary experiences. In this inaugural post of our "Illuminate Your Brand" series, we're delving into the remarkable realm of LED innovation and its potential to elevate your trade shows, corporate events, and live activations to unprecedented heights.
Product: Elevate Experiences with LED Technology
Imagine walking into a trade show or corporate event where every step is a journey into a vibrant, immersive world. LED technology empowers us to craft experiences that ignite the senses. From eye-catching LED video walls that showcase your brand story to interactive LED floors that engage attendees, our expert team at 4Productions specializes in curating tailor-made solutions that amplify your message and foster genuine connections.
Price: Optimizing ROI with LED Solutions
Concerned about the cost? LED solutions might surprise you. Beyond the initial investment, LED displays are energy-efficient and built to last, making them a savvy long-term investment. However, we understand that not everyone wants to make that initial investment. That's why we offer LED technology rentals that provide a cost-effective alternative. Renting LED tiles eliminates the need for excess printing and adds versatility to your campaign.
Partnering with us means not only seizing attention but also reaping the rewards in the form of extended brand visibility, increased foot traffic, and lasting memories. It's an investment that pays dividends in the currency of unforgettable experiences, all without the commitment of purchasing new gear. Plus, we have the experts to install, colour correct, and have your campaign looking sharp, ensuring you get the most out of your LED rental.
Place: Transform Event Spaces with LED Innovation
Traditional event spaces become extraordinary destinations with the touch of LED innovation. Picture a corporate event transformed into an immersive wonderland through vibrant LED lighting or a trade show booth that transports visitors to a different realm through dynamic LED displays. At 4Productions, we take pride in turning every corner of your event into a canvas of creativity, allowing your brand to shine in ways previously unimagined.
Promotion: Amplify Your Brand's Voice through LED Displays
Your brand deserves a stage that truly amplifies its voice. LED technology allows us to seamlessly integrate your message, products, and values into the event experience. Whether it's showcasing products on dazzling LED screens, narrating your journey through LED timelines, or creating interactive LED installations that engage and entertain, we help you connect with your audience on a profound level.
Real Success, Tailored for You
In 2022, we had the pleasure of showcasing the Lockheed Martin booth, a remarkable achievement that garnered recognition for its exceptional use of LEDskins by beMatrix. Please find below a brief excerpt of the accolades received for our booth, and don't hesitate to let us know if you'd like to view the accompanying video and photos.
"The Lockheed Martin booth we unveiled at the AFA Air Warfare Symposium in 2022 was nothing short of extraordinary. Dominating the exhibit space, our LEDskin arch comprised a remarkable ensemble of 200 beMatrix LEDskin tiles, elegantly complemented by 32 LEDskin Perfect Corner frames. To enhance the overall aesthetics, we adorned the arch's ceiling with mirrors, imparting a sleek and futuristic ambiance.
Our AV #bePartner, 4Productions, displayed their expertise in handling the LEDskin, skillfully capturing the boundless sensation of flight that Lockheed Martin sought to convey. The result was a large, eye-catching, and absolutely stunning installation that left a lasting impression on all who experienced it."
At 4 Productions, we're not just about technical solutions; we're about crafting experiences that linger in memories. The "Illuminate Your Brand" series is your gateway to understanding the potential of LED technology. It's an invitation to imagine, innovate, and illuminate. As your partner, we're committed to transforming your events into exceptional journeys, leaving your audience awestruck and your brand indelibly etched in their hearts.
Visit us at https://www.4productions.com/ to explore more and embark on a journey of transformation. Stay tuned for the next chapter in our series, where we'll continue to unveil the magic that is "Illuminate Your Brand.
---
---